The Cabaret Quicksand was formed by Craig Rewbury in 2016 as a recording project of his songs. He wanted to do something different and instead of having one band record the material, he wanted to use musicians/friends/family that had a connection to him from the past and present, whether it was from playing/recording or simply admiring. It was evident from the beginning that Richard Allen Brown was going to play all of the drums/percussion since these two have spent the last 13 years providing the Rhythm section for the popular Niagara Cover band Jonesy. It just made sense to have this tight duo lay down the foundation for this record.
Craig has called on some other heavy weights for this project including his band members in Jonesy, Brad Battle, Jesse Stull, Gary Borden, Marc Ganetakos, Phil Wellman, Mike Palermo and John Bowman to name a few. Each of these talented players brings a unique element and style to Craig's songs which are generally about past experiences, relationships with people and world issues. The sounds range from Rock, Pop, Blues and even Country. The Cabaret Quicksand has quickly morphed into a force to be reckoned with since the release of its first single Trepidation in April 2017 with a video that can be seen on YouTube.
As Winter approaches The Cabaret Quicksand is finishing up its debut release The Company You Keep and plans to get it out to you during winter of 2018 via BS Live Rocks Records. The project is being recorded in analog with bed tracks captured "live off the floor" and will be able to be spun on your turn tables if you choose.
I had the opportunity recently to sit and chat with Craig Rewbury about his unique project and the album The Company You Keep.
When did the idea of this "super group project" come to you? And how long did it take from the first thoughts of doing this and actually starting the project?
Well the term "super group project" makes me feel uncomfortable. I never think or look at it like that other than that the people involved are stellar human beings and musicians, so in that sense it's extraordinary and super.  It's very complimentary of you to say though. The idea of this project in its infancy was essentially at the end of 2015-beginning of 2016 and started out as any other recording project.  I had some songs and was writing more songs and wanted to record them.  How was I going to record them without a band? Well- I thought to myself, I should call on a few of my compadres and find out if anyone would be receptive to playing on it.  I was welcomed with open arms and started recording that Spring of 2016.
How did you select the players and how much input did they have in help create the final products?
I virtually called on the players on a "song to song" basis. When the song was demoed in my basement with me recording the basis of the song on my computer, I took that and really thought about who would be the best candidates to reach out to for that style, genre and sound.  I then contacted them to begin some sessions. They all had as much freedom as they needed in the studio as we were all on the same page before we recorded.  The way that these people performed is their own personality and sound working with the framework given to them.  That's what makes it special.  Everyone leaves their own mark and identity on the song.
Jesse Stull sings on a number of your tracks. Did you have his vocal in
mind when writing the lyrics to these songs and was he able to help create the final tracks he sang on?
To answer that truthfully, I have no singers in mind until I complete the song on my own. I obviously know what pool is available to me but that's as far as it goes. I need to envision and hear what sound and vibe is required after I lay my own vocal down first in the pre-production phase A few of the songs that Jesse sang on were written in totally different keys to suit my own range and changed later when we realized they weren't in his wheelhouse. The Truce, Remission and Bent were all songs we changed the key by a full step or more. He has a huge identity on these songs and sang the framework (melody and lyrics) I gave him but then makes it his own by doing what Jesse does best-improvises and hears textures and nuances in his head i.e screams and chops that would turn the heads of the most seasoned rock stars out there.
Why was it important to have Richard Allen Brown play drums on all the tracks? He is the only member that plays on every song.
Richard Allen Brown is one of my favorite people and drummers out there. He's solid, precise, experienced in the studio, has a great pocket and we have chemistry playing together (hundreds of gigs) over the last 13 years. There's something magical in the groove we have. There's an X factor if you will.  Richard has supported the idea from the beginning and I didn't ask anyone else. There's a lot of great drummers out there but I feel best in my comfort zone with him and he is also one of my best friends. It's not often that you get to record a full album with your friends.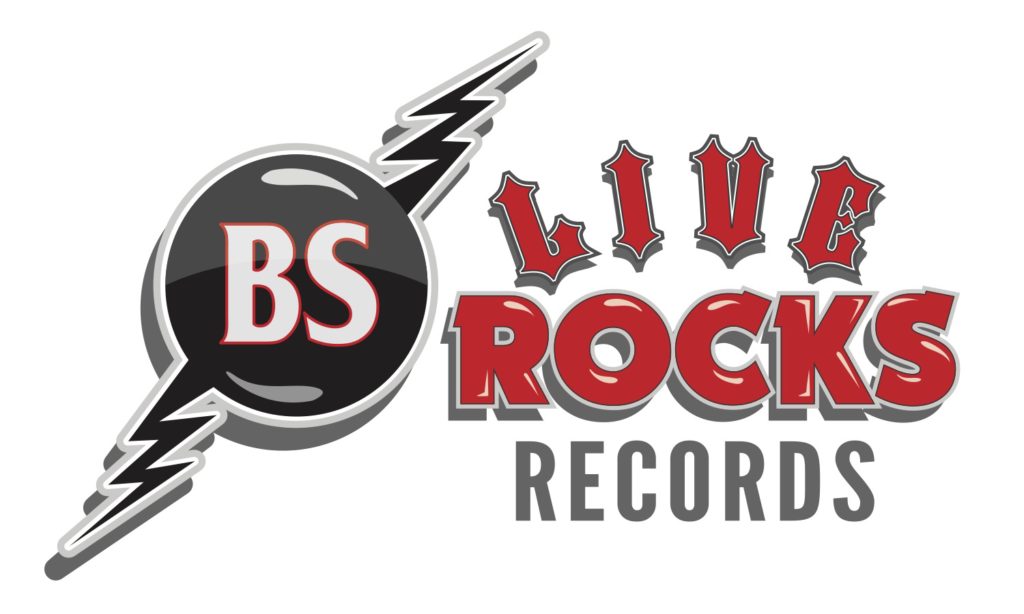 Great name for this band and album. How did you come up with them?
Thank you. I didn't really have a name for this project until about six or seven months into it. I wasn't playing live with it so it wasn't all that important but at some point you need to stamp an identity on it.  I wasn't all that fond of Craig Rewbury or the Craig Rewbury Project lol so I figured that some thought should be put into the name. Project names are difficult because most sound terrible before you can associate the music with the name.  Foo Fighters was one of the most ridiculous names I had ever heard until I listened to the music.  It's not so ridiculous now is it? It's badass  because you associate that name with those guys kicking you in the face with those rock riffs, loud kick ass drums and vocals. In this project, I felt that "Cabaret" explained the revolving door of performers/musicians or the large group who are performing on these songs.  I don't really remember discovering or thinking of the word Quicksand other than I needed my own sort of metaphor or symbolism to describe the songs. I definitely don't want anyone to fall into quicksand but if the listener gets sucked in and stuck in the songs, I've accomplished what I set out do in the first place.  That being said, the "Quicksand" is the songs. Cabaret Quicksand didn't quite sound complete to me until I added "The" at the front end. It just seems to roll off the tongue better. The Company You Keep is my way of describing all of the beautiful people playing on these songs and who I'm associating with for this album.
You're going to release this record on vinyl as well as on digital and CD. Why is it important for you to have it on vinyl?
Didn't you know that vinyl is cool again? In all honesty I've always loved vinyl.  It's personal and also an experience that you can't get with files that you can't see.  The tangible characteristics of vinyl is second to none in my opinion. The process of opening up the shrink rap, and jacket, putting it on the turntable and listening for the first time while you study the photos inside and read the lyrics is the most fulfilling feeling to me.  That experience left us as listeners for many years and it's starting to come back and I welcome it to stay.  The vinyl era was always mysterious to me while growing up because the only thing you knew about the artist was through listening, reading, photos and going to see them play live. You might get the odd glimpse on TV but information was difficult to retrieve unlike today where you can see any concert or interview or tweet the artist has ever been involved in.  The guess work and anticipation has been removed from the equation through technology. It's almost as though people have become desensitized because there is so much choice at their fingertips. The other important reason that I chose vinyl is due to the fact that this album is recorded in analog on 2″ tape.  So the natural logical next step is to go all the way and physically press vinyl.
Uniquely, you recorded this entire record in analog "live off the floor". It's a bit of a historic way of recording why did you decide to create your album this way?
I really like the process.  It challenges the players to have their chops together before they come into the studio.  I wanted to capture that lightning in a bottle or magic when we nail a take. When you record in analog you better be able to play the songs because there are no tools to fix your parts or hide behind.  Bottom line is that you are going to play it until its right, not perfect because humans playing music isn't perfect and shouldn't be. The imperfections are what gives songs personality and that sound/feel.  Singers need to sing on key unless singing out of key is part of your sound? Analog is all about performance and I like that. It's honest and pure.
What role did Rob Deacon play in this record?
Well number one- he provided me the ability to record in analog with his invaluable studio gear. Rob also mentored me as a teenage musician for several years and we have quite a history together.  He has been involved in other recording projects with me, live FOH sound and got me my first live bar gig at 18 years old at a venue called The Hideaway. It made sense to do this with Rob since he is a nod to my past, a great person in which I'm comfortable working with. He's also a stellar engineer and provided myself and the other musicians a real light and laid back working atmosphere. Essentially Rob is the heartbeat of this project in many ways. When Rob is down, the project is at a standstill.
Tell me about Trepidation and why it was selected as your first single? Did your record label help select the song?
Trepidation is a song I wrote during the US Presidential Primaries last year and it just hit me when all the press was consumed by Trump and Hillary 24/7.  Being a Canadian I had to sit and watch this madness unfold knowing that I had no control over the final outcome. I just kept thinking that there really wasn't a good choice for an ideal candidate. It really bothered me when Trump threatened to send back all of the illegal aliens especially the folks that have raised their families in the US for years. I kept thinking of the fear they must have been living with.  Without getting too deep that really articulates the premise of the song and the video director Antonio Amodeo really captured the story and did a brilliant job leaving it up to the viewers imagination to make their own conclusion. I think it was chosen to be released first due to the timing of these events unfolding in history. It just seemed right at the time.
What is the near future for The Cabaret Quicksand in 2018? Will you be touring at all and if so what does that lineup look like?
We have a lot of exciting things lined up for 2018. We will be doing a record release party in our hometown of St. Catharines in which we will perform the record with many of the musicians that performed on it.  We are hoping to get some radio airplay as well so we'll be knocking on some doors. The recording is also continuing as new songs are already written and in the process of being written. A new video will be released early in the new year for a song called Remission and some festivals and venues have shown interest in having the band play. The line up will look similar or identical to our live show at the Niagara Music Awards this past September.  We had the privilege of performing at the Greg Frewin Theatre in Niagara Falls and were also nominated for 2 awards. We're fortunate in that respect considering the album hasn't been released as of yet. BS Live Rocks Records has been very supportive of this project and has opened up many doors for us and we're grateful for that. Most of all, I'm hoping that we continue building a fan base and they enjoy the record.
Shane Christopher Neal is the co-founder of the BS LIVE ROCKS ENTERTAINMENT GROUP and BS LIVE ROCKS RECORDS. He is also co-host of BS LIVE ROCKS on YourTV Niagara, has an entertainment podcast show and is also the co-host of the Niagara Music Awards. Shane is also a regular contributor to Music Life Magazine. He is on Facebook as Shane Christopher Neal Radio/TV/Media . Check out bsliverocks.com
original article appears on MusicLife Magazine.net
---